Grids in Fleet Manager Mobile offers advanced filtering and sorting capabilities. This article will teach you how to efficiently filter and sort data within grids so you can quickly find what you are looking for.
Here are the topics that will be discussed:
How to use the Filter Row
How to Clear Filter
Advanced Filtering
Show Favorite Vehicles only
Sort Results
The Filter Row
Between the header and the results of a grid, there is a row with blank text and/or combo boxes. This row is called the "Filter Row". It allows you to filter the results of the grid.

For example, if you want to show only the type "Service vehicles" in the Vehicle List...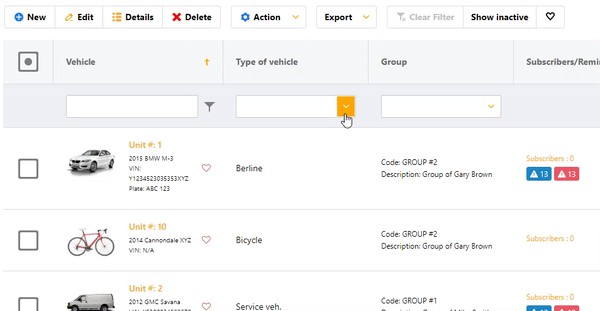 Then, from these results, if you want to add another filter so only GMC vehicles are shown...
Clear Filter
To clear all the filters applied to a grid, you can use one of these two options:

Advanced Filtering
To go a little further in filtering, you can use the Filter icon appearing on text boxes. It will let you specify the way you would like the text entered to filter the results: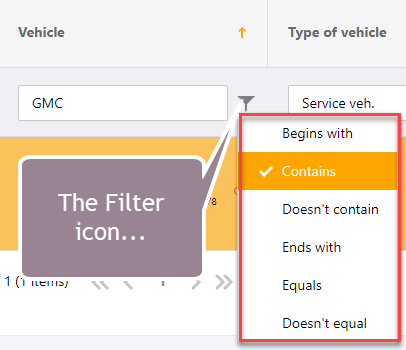 When the column type is date or number, options in the Filter icon are different: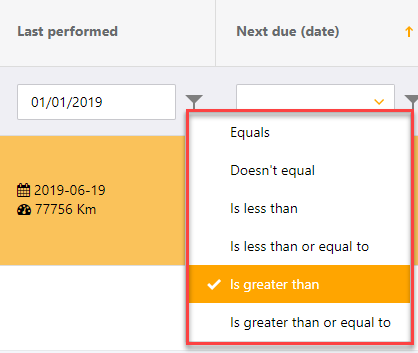 Show Favorite Vehicles only
In Fleet Manager Mobile, you can set some vehicles as your "Favorites". To set a vehicle as a Favorite, you have to go to the Vehicle List and click on the little heart at the right of the Vehicle's description: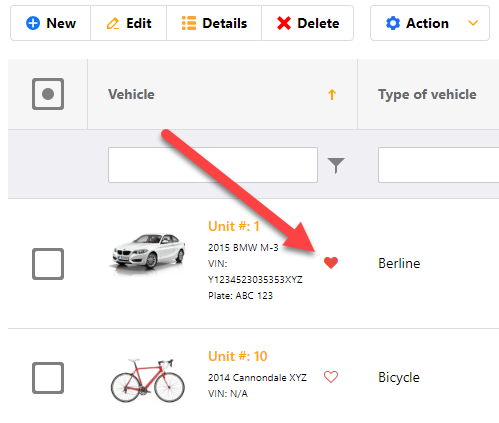 Vehicles with a heart filled with red color are considered as Favorites. Favorite Vehicles appear in the Dashboard so you can get info about them very quickly. Another advantage is that you will be able to filter grids so only data of your Favorite Vehicles are shown. To do so, just use this heart button, usually located next or close to the "Clear Filter" button in the toolbar of the grid:

Sort Results
Sorting the results is very easy. Just click the header of the column you want the results of a grid to be sorted by: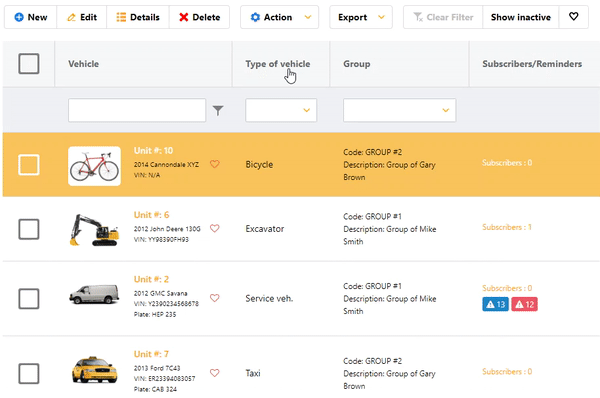 A small arrow will appear in the header of the column, showing the way the results are sorted (ascending or descending):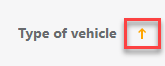 You can add a second sorting columns by right clicking the header of another column then using menu "Sort Ascending" or "Sort Descending". This way, the results will be sorted by two columns: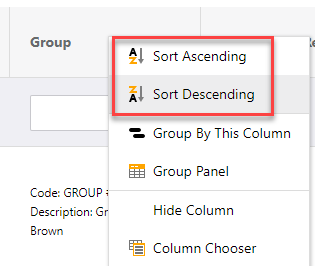 Sorting is now applied on two columns: