Maintenance terminology can be confusing. This article will help you understand the differences between the different terms used in Fleet Manager Mobile regarding your vehicles' maintenance and repairs.
Service Items & Service Templates
Service Items (sometimes called "Service Tasks" in other systems) are the regularly recurring preventative maintenance tasks that keep your vehicles in good shape. These are routine services that can be tracked by date and/or meter interval. For example: Oil Change, Tire Rotation, etc. These Service Items can be used to create Service Reminders, populate the description of a Completed Service or create a Work Order.
You can also create groups of Service Items by creating Service Templates. For example, you could create a Service Template called "20,000 mile service" that would include many Service Items like filter change, brake fluid change, timing belt inspection, etc. This Service Template will then be available for the creation of multiple Service Reminders in one simple operation populate the description of a Completed Service or create a Work Order.
Service Reminders
Service Reminders can also be referred to as "Maintenance Program" or "Preventative Maintenance" in other systems. These items can be created from "Service Items" or "Service Templates", or they can be created as "One time reminder" only: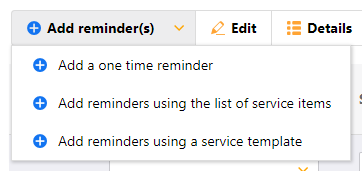 You can assign subscriber(s) to Service Reminders so your personnel will be notified by email when a Service Reminder become "Due soon" or "Overdue". A Service Reminder can then be converted to a Completed Service or Work Order.
Completed Services
Completed Services are a quick and easy way to log service for a vehicle. This method is intended for basic summary data (work accomplished, cost, etc.) and is particularly useful when work has been completed by a third party vendor and you simply need to track history.
A Completed Service can be created from a Service Reminder item. The Service Reminder's next due date and meter will be updated accordingly.
Work Orders
Work Orders are more robust than Completed Services, allowing for greater detail in planning and execution. A Work Order can contains multiple Service Items (called "Services to perform"). And those services can contains multiple items like parts, labor, etc. You can identify which specific parts were used and identify the in-house Technician or third party Vendor who completed the work. Here is an example of a Work Order which contains 3 services ("Oil change", "Rotate tires" and "Check coolant") :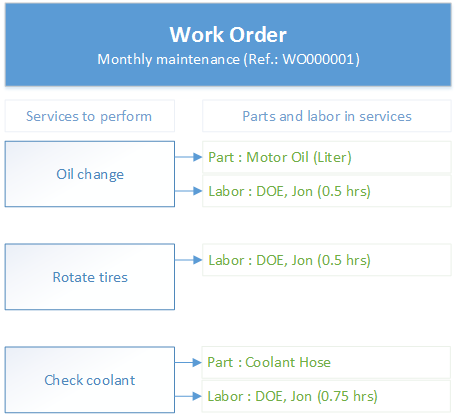 When a Work Order is completed, you can convert it to Completed Service(s). A Completed Service entry will be created for each Service to Perfom entry contained in the Work Order.
Issues
Issues are typically one-time repairs which represent an unexpected or unplanned service need. Examples include Fluid Leak, Brake Failure and Transmission Repair.
Follow Issues Statuses from Pending to Resolved/Closed.
Issues can be resolved directly in the Issues module, or they can be converted to Completed Service or Work Order. The advantage of Completed Services and Work Orders is keeping track of service history and associated costs.